Are you ready to unlock the secrets of Strikingly Pricing? Whether you're a seasoned entrepreneur or just dipping your toes into the world of online business, understanding the intricacies of pricing can be a game-changer.
In this comprehensive guide, we'll delve into the art and science of Strikingly Pricing – from setting competitive rates to maximizing profit margins.
Get ready to learn how to price your products or services in a way that captivates customers, outshines competitors, and ultimately propels your business to new heights.
Understanding the Basics
Before we dive into the pricing plans, let's establish a foundation.
Strikingly offers a range of plans catering to different needs, from the budding blogger to the established business owner.
The plans are crafted to provide scalability, ensuring you have the tools you need as your online presence evolves.
Limited Plan – $12/mo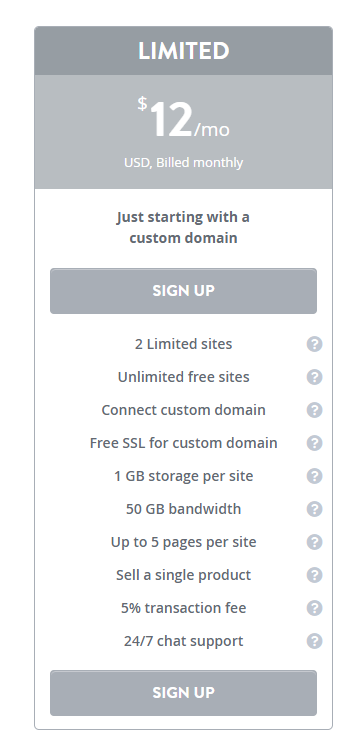 For those taking their first steps into the digital realm, the Limited plan at $12 per month offers a solid starting point. Here's a snapshot of what you get:
2 Limited Sites: Kickstart your journey with two personalized sites.
Custom Domain: Establish your brand with a custom domain.
Free SSL: Secure your custom domain with a complimentary SSL certificate.
1 GB Storage: Store your content seamlessly with 1 GB storage per site.
Sell a Single Product: Dip your toes into e-commerce with the ability to sell a single product.
This plan provides the essentials for anyone looking to make a mark online, with 24/7 chat support ensuring you're never alone in your journey.
Pro Plan – $20/mo (Most Popular!)

For those ready to elevate their online presence, the Pro plan at $20 per month is the go-to choice.
It includes everything in the Limited plan and more:
3 Pro Sites: Expand your digital empire with three professionally designed sites.
20 GB Storage: Store and showcase your content with an increased storage capacity.
Up to 100 Pages: Break free from page limitations and create a comprehensive online experience.
Custom Forms: Engage your audience with custom forms tailored to your needs.
Password Protection: Add an extra layer of security to your content.
Site Memberships: Foster a community with site memberships and paid subscriptions.
2% Transaction Fee: A nominal transaction fee for your e-commerce endeavors.
The Pro plan is designed for those looking to grow exponentially, removing Strikingly branding and providing advanced features.
VIP Plan – $59/mo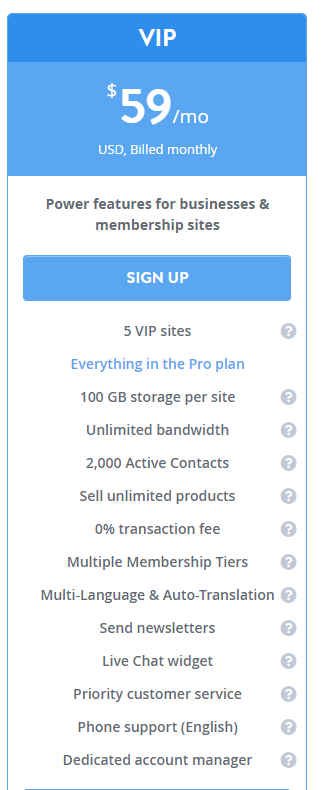 For businesses and membership sites demanding power-packed features, the VIP plan at $59 per month is the ultimate solution.
It includes everything in the Pro plan and goes above and beyond:
5 VIP Sites: Establish a robust online presence with five VIP sites.
100 GB Storage: Amplify your content storage capacity.
Sell Unlimited Products: Unleash your full e-commerce potential with zero transaction fees.
Multiple Membership Tiers: Tailor memberships to different audience segments.
Live Chat Widget: Enhance customer engagement with real-time communication.
Priority Customer Service: Enjoy priority service with dedicated account management.
Phone Support (English): Connect with support via phone for personalized assistance.
The VIP plan is a comprehensive package for businesses aiming for digital excellence and unparalleled customer engagement.
Unlocking Value with Strikingly Pricing
Now that we've explored the pricing plans, let's uncover the additional perks that make Strikingly a standout choice for website creation.
Transparent Pricing Structure
Strikingly's pricing structure is refreshingly transparent.
The monthly, yearly, 2-year, 3-year, and 5-year plans provide flexibility and substantial savings for those committed to their online journey.
Monthly: Ideal for those testing the waters.
Yearly: Save $48 by committing to a yearly plan.
2 Years: A $144 saving for the visionary planner.
3 Years: Unlock savings of $288 for long-term commitment.
5 Years: The ultimate commitment, saving $528.
This flexible pricing ensures that Strikingly caters to the diverse needs of individuals and businesses alike.
Free Plan: $0 Forever
For those on a tight budget or just starting, Strikingly offers a forever free plan. This plan includes:
Unlimited Free Sites: Establish your online presence without spending a dime.
Strikingly.com Domain: Begin your journey with a Strikingly domain.
5 GB Monthly Bandwidth: Engage your audience with a generous bandwidth allocation.
500 MB Total Storage per Site: Start small and scale as you grow.
Multiple Pages: Craft a multifaceted website with up to 5 pages.
Simple Store: Introduce e-commerce with one product per site.
Invite Collaborators: Foster collaboration with others on your project.
24/7 Support: Access support whenever you need guidance.
The free plan is a testament to Strikingly's commitment to democratizing online presence, offering a robust platform without financial barriers.
Strikingly Pricing vs. Competitors
| | Strikingly | OLITT | Squarespace | Weebly |
| --- | --- | --- | --- | --- |
| Starting Price (With Annual Billing) | $8 per month | $2.5 per month | $16 per month | $10 per month |
| Accept Recurring Payments | Yes – With Pro Plan ($16 per month) | Yes – With Pro Plan ($2.5 per month) | Yes – With Advanced Commerce Plan ($49 per month) | Yes |
| Free Plan | Yes | Yes | No | Yes |
| Storage | 1 GB – Unlimited | Unlimited | Unlimited | Unlimited |
| Membership Areas | Yes – With Pro Plan ($16 per month) | No | Yes | Yes |
| Online Store Options | Yes – Up to five products | Yes – Sell unlimited products | Yes – With Business Plan ($23 per month) | Yes |
Addressing Common Queries
Do I Need a Server to Host My Site?
No, you won't need to worry about hosting. All Strikingly sites include fully-managed, high-performance cloud hosting.
Can I Connect My Domain with My Strikingly Site?
Absolutely! Custom domain features are included in the paid plans, and Strikingly provides detailed instructions to guide you through the process. Don't have a domain? No problem – you can purchase one directly within Strikingly.
Can I Create More Sites Than My Plan Allows?
Certainly. After upgrading to a plan, you can purchase additional sites from within the dashboard. If you encounter any issues, reach out to [email protected] for assistance.
What Custom Code or Embedded HTML Can I Use?
Pro accounts have access to custom code, enabling you to embed various elements. Explore the possibilities here to see what you can achieve.
How Do I Cancel the Service?
If you're on a paid plan, you can cancel anytime to revert to the free plan. The charge will stop by the end of the billing cycle. Note that if you're using paid features, remove them or associated sites before canceling/downgrading.
Can I Switch Paid Plans?
Certainly! Contact [email protected] to upgrade, downgrade, or switch between monthly and yearly plans.
Can I Pay in Other Currencies?
While prices are in USD, you can use any credit card for payment.
My Take on Strikingly Pricing
As someone deeply entrenched in the world of digital marketing, I recognize the critical role a website plays in building a brand and engaging an audience.
Strikingly's pricing plans offer a range of options, ensuring there's a suitable plan for everyone, from the ambitious beginner to the seasoned entrepreneur.
The transparency in pricing, coupled with the flexibility of plans and the robust features provided, makes Strikingly a standout choice.
Whether you're a blogger aiming to share your thoughts with the world or a business owner looking to expand your online footprint, Strikingly provides the tools and support you need.
In my journey, I've come to appreciate platforms that not only meet my immediate needs but also grow with me.
Strikingly, with its user-friendly interface, responsive support, and feature-rich plans, aligns with this philosophy.
So, go ahead, explore the plans, choose what suits you best, and embark on your digital journey with confidence.
Your online success story begins with the right platform, and Strikingly might just be the catalyst you've been looking for.
Happy blogging!
Read also: